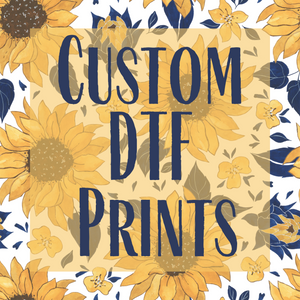 Custom DTF Transfers are a great option for custom orders or to allow you to pick what designs you want to run in your boutique. 
What are DTF Transfers
DTF transfers are similar to Screen print transfers in terms of the general idea, both transfers are made to be put on shirts and put on using a heat press.
DTF transfers are made using a different process. DTF transfers are printed on a clear film, then adhesive powder is added to the ink, and then the transfer is ran through a dryer. 
With DTF transfers the possibilities are endless. You can have full color or single color transfers. DTF transfers allow for far greater detailed images to be put on shirts. You can even upload pictures of your loved ones to be printed! 
How to Press DTF Transfers
Pressing DTF Transfers is a 2 part process. You press the transfer twice. The first press will be 10 seconds, allow the transfer to cool completely before taking the clear film off the shirt.  Once you have removed the film place a Teflon sheet over the transfer and press it again for 5 seconds. The second press pushes the transfer into the fibers of the shirt, which makes the transfer last longer and have more flexibility.  Our Recommended heat Settings is 325 degrees.  These settings are the recommended general settings. All heat presses can be different and may require different settings. You will have to prefect your process and find what is right for you and your heat press, but this is a great place to start.
Size Chart
Tag: 1.5"
Pocket: 3.5"
Infant/Toddler: 6"
Youth: 9"
Adult: 12"
Artwork Requirements
Artwork must be print ready.

Artwork should be sized to the size you are wanting printed and have selected to order. 

CCS will/can edit &/or resize any artwork submitted for this product listing, for a separate artwork fee if requested and agreed upon. Reach out via email if needed. info@crawfordcountrystore.com

Images will be printed AS-IS. Please ensure your artwork is PRINT-READY as we will not offer refunds for printed custom artwork. Files need to be high resolution. 300 dpi is recommended. If you have any questions or concerns or would like your file verified before purchased email us at info@crawfordcountrystore.com to have us take a look. 

By uploading a file for print you are confirming that you have the rights to print the design. We take no responsibility for trademark or copywrite infringement and reserve the right to cancel and refund a print/order at our discretion.  If we feel if violates any trade mark, copywrite law, etc. 

No refunds on custom printed transfers.