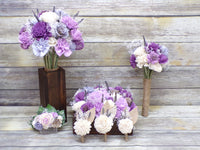 Wedding Flower Packages
With our craft supply business we offer a wide variety of wood flowers, wood products, supplies, etc.
We offer full wedding wood flower packages that last forever. Including bridal bouquets, a toss bouquet, brides maids bouquets, boutonnieres, hair combs, center pieces, arches, bouquet holders, etc.  We can custom dye the flowers any color you would like and that match you color scheme and we can scent them so they will smell as beautiful as they look! Contact us for more information! 
Website for supplies/DIY- www.onlinewoodflowers.com
Email - info@crawfordcountrystore.com  
OWF WEBSITE