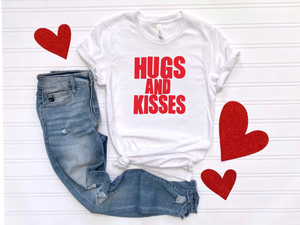 Check out these super adorable Graphic Tees! These tees are screen printed directly on the shirt. This Tee is available in sizes S-4XL. We offer a premium and basic Tee option. All tees are unisex.
     Premium Tees will be your softer lightweight Tees. This includes Ringspun and blended Tees. Basic Tees are your everyday cotton Tees. 
   We use brands including but not limited to Bella Canvas, Tultex, Next Level, Gildan, Comfort Colors, and many more. Unfortunately shirt inventory right now is hard to come by. With this being said we will not be able to list specific brands for each option. But rest assured your order will come all in the same brand. As of right now this is the only way we can offer a wide variety of products to as many people as we can. If you are needing a specific brand, color, or style (long sleeves, etc.) please feel free to reach out or leave us a note on your order and we will do our best to accommodate your request. 
      We also offer a custom branding option. This is where we remove the tag on the shirt and add a tag with your company name. This gives the items a more exclusive feel. If you would like to learn more feel free to reach out!